Main content starts here, tab to start navigating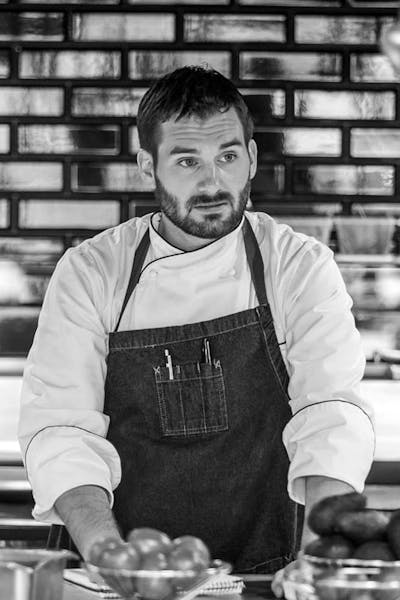 Andrew Wigger
Executive Chef
Andrew was born and raised on his family's farm in Northwest Missouri. His love for food began at a very young age with the lending of a hand in the raising of livestock, picking green beans and corn from the garden, tending to his own strawberry patch, and by hunting and fishing. As he moved onto high school, he began to work for a family in two of their restaurants; one was TexMex and the other BBQ. This is when he realized that cooking was a different world, a calming and exciting career path. From there his passion only grew stronger as he was encouraged and motivated by his friends and family to take the next step.
Andrew attended Johnson County Community College and completed the Chefs Apprentice & Hospitality Management Program. His apprenticeship was completed at the Hotel Phillips, a Four Diamond preferred hotel in Kansas City, MO. After working as the Sous Chef there, he moved on to work for many top chefs around the Kansas City area, including world renowned Italian Chef Lidia Bastianich, multiple James Beard award winning Chef Michael Smith who trained in France and under Charlie Trotter in Chicago, and he also worked as the Sous Chef at Irish Chef Kevin Dundon's Raglan Road.
In the summer of 2009, Andrew decided to move to California to further pursue his culinary dreams. He began working for Pascal Olhats at The Brasserie in Newport Beach. After learning the classics of French Cuisine, Andrew moved on to become the Sous Chef at Zimzala in the Shorebreak Hotel located in Huntington Beach. During his time at Zimzala he learned the appreciation for what has become California Cuisine which focuses on using fresh produce from local farms.
Early 2014, he moved to Paris, France to assume the role as Head Chef of FRAME, a restaurant with a California/French Brasserie concept. The restaurant opened in April 2014 and for nearly 7 years he has delivered creative dishes that you could imagine eating on the West Coast, with a French twist of course, set at the base of the Eiffel Tower!
Now in 2021, amidst the pandemic, he has the privilege of taking on the role of Executive Chef at the Mulberry House in Washington, NC. Here he will be working closely with local producers and staff to deliver an engaging culinary experience.